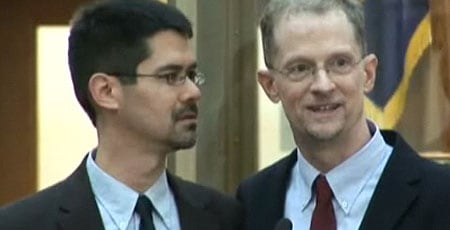 The California Supreme Court heard arguments in a case brought in 2004 by nearly two dozen same-sex couples for approximately 3 1/2 hours this afternoon and now has 90 days to rule on whether or not the state's law defining marriage as between a man and a woman is constitutional.
The L.A. Times reported that the court appeared split: "The California Supreme Court appeared divided today over the constitutionality of the state's ban on same-sex marriage. During three hours of arguments by lawyers for and against gay marriage, Justice Joyce L. Kennard questioned whether "the state has effectively conceded there is no valid grounds for distinction" between domestic partnership and marriage. But at least three of the seven justices repeatedly noted that California voters have defined marriage as a union between a man and a woman, and that the public might not be ready to embrace same-sex marriage. Justice Carol A. Corrigan indicated that it might be best to leave the question to the public, whose perception of gay marriage, she said, is in the process of 'evolving.' She also asked lawyers to show her where the state constitution addressed same-sex marriage."
Watch the AP report on the proceedings including coverage of the anti-gay protestors outside, and remarks from Mayor Gavin Newsom, AFTER THE JUMP…
Jeremy at Good As You has lots of audio clips from the hearings.