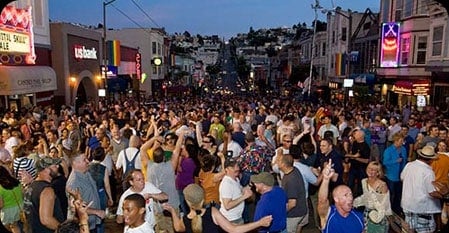 California legalizes same-sex marriage!


Colin Farrell is withering away to nothing.


2008 Tony Award nominations announced.


'Sore loser': SNL eviscerates Hillary Clinton.


All thumbs: Does PlayStation 3 turn you on?


Vatican: Belief in God and aliens do not conflict.


Roberto Cavalli: I have never been homosexual.


Navy plebes mount greased phallus in Annapolis.


Neil Patrick Harris gets a piece of Britney Spears.


Green Porno: Isabella Rossellini is a nightcrawler.


Jim McGreevey says he is too poor to pay alimony.


Art worship: Gael Garcia Bernal and model Brad Kroenig.


William Shatner describes his first New York gay encounter.


Ball State University student attacked in anti-gay hate crime.


WATCH: John Edwards gives endorsement to Barack Obama.


Cayman Islands kisser sends island's bigots into a gay panic.


Split: Has Jodie Foster ended things with "her beautiful Cydney?"


CA Marriage: CNN bombs, Ellen to marry, the 2008 race, AC 360.


Keith Olbermann slams Bush, Iraq war, and his golf sacrifice lies.


As the World Turns Luke and Noah offer onscreen kissing lessons.


Jim Carrey and Ewan McGregor get some cozy signage in Cannes.


Marc Jacobs manager and T-shirt model arrested for $62,000 theft.


Meltdowns of the week: Bill O'Reilly and Sue Simmons + the Remix!


Moldovan police stand by as gay activists are attacked. MEP outcry…


Idaho GOP candidate Walt Bayes wants separate bathrooms for gays.


MUSIC: Cyndi Lauper, NIN, Jay-Z Vs. Oasis, Pete Burns, Ace Of Base.


Bellwether? Democrat Travis Childers in 'seismic' Mississippi election win.


THE TUBE: China quake, Obama ad, Bush and golf, Swish Vote, Fantasia.


Suspended UT administrator Crystal Dixon, fired, will sue, talks to reporters.


Brothers and Sisters' Scotty and Kevin in prime time commitment ceremony.


Bravo's Workout loses Gatorade sponsorship after breast cancer patient diss.


Gossip Girls: Tom Cruise coming between Penn Badgley and Chace Crawford?


Lesbian wins gender discrimination lawsuit against NY's Caliente Cab Company.


PLUS: Sean Faris, Spencer Tunick, Sheena Easton, Josh Hartnett, Dominic Cooper.