As promised, Vermont Governor Jim Douglas has vetoed a bill that would legalize same-sex marriage in the state.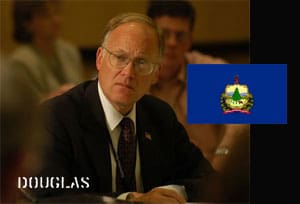 He release a statement, which read, in part:
"On such an intensely personal issue as this, all members must do as their individual conscience dictates, with the best interest of their districts in mind. It is for those reasons that I have not sought to lobby members of my own party, or asked opponents to sustain my veto. This legislation does not address the inequalities espoused by proponents. Regardless of whether the term marriage is applied, federal benefits will still be denied to same sex couples in Vermont. And states that do not recognize same sex marriage or civil unions will also deny state rights and responsibilities to same sex couples in Vermont. This bill will not change that fact."
Read his full statement here (PDF).
The Vermont House and Senate are expected to vote to override the veto
tomorrow. An override is expected in the Senate while the House is
still unclear.
Vermont Freedom to Marry: Petition urges override, rally planned for Tuesday morning…
VT Rep. contact info…