I've received word from people on the ground in Iowa that anti-gay groups in Iowa are rallying to put pressure on the legislature and Governor Chet Culver to pass an amendment to the state constitution to nullify Friday's court ruling.  While leading lawmakers Senate Majority Leader and Mike Gronstal and House Speaker Pat Murphy have thrown their full support behind the ruling, Culver is something of a wild card.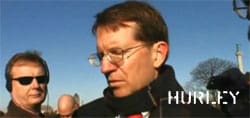 Chuck Hurley, president of the Iowa Family Policy Center, has been making the rounds at the capitol today and has claimed that calls have been flooding into the Governor's office since Friday. Hurley, you may recall, organized a huge demonstration at the Supreme Court in January 2008 in an attempt to pressure their decision on same-sex marriage.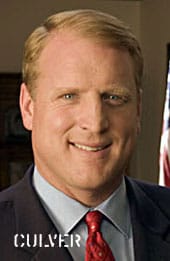 You may remember back in September 2007, Culver stated his opposition to same-sex marriage. At that time he said he was waiting to hear what the Supreme Court had to say after Polk County judge Robert Hanson's ruling declaring the ban on same-sex marriage unconstitutional was stayed at the county's request. According to my sources in Iowa, the Governor does have the ability to call a special session of the legislature if he is inclined to initiate legislation that would amend the state's constitution.
Culver has been studying the decision, the AP reports. Said his spokesman Phil Roeder: "We're getting a bunch of phone calls and e-mails. It's kind of split. It's been constant all day."
One Iowa would like to ensure that this does not happen and is asking people to send an email to Culver opposing an amendment to the state's constitution. You can do so HERE.
Also, contact Governor Culver at 515-281-5211.
I've re-posted a video of Hurley reacting to the ruling last week, AFTER THE JUMP…