A Senate and House committee in New Hampshire agreed on language changes to marriage equality legislation following requests by Governor John Lynch that the bills add additional religious protections: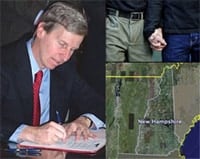 "The new version, which is expected
to come up for a vote Wednesday, adds a sentence specifying that all
religious organizations, associations or societies have exclusive
control over their religious doctrines, policies, teachings and beliefs
on marriage. It also clarifies that church-related organizations that
serve charitable or educational purposes are exempt from having to
provide insurance and other benefits to same sex spouses of employees.
The earlier version said 'charitable and educational' instead of 'charitable or educational.' The changes amount to slightly stronger language than what Lynch proposed, and the governor approves of the revisions."
One senator, Sheila Roberge, was removed from the committee after offering three substitute proposals which were rejected. Roberge proposed a voters referendum and a delay of the date the legislation would take effect from January 2010 to July 2011.