Former Secretary of Homeland Security Tom Ridge is publishing a "tell-all" on September 1. Among the details of the book being promoted is something many folks had suspected for a long time — that national security alert levels were at least sometimes politically motivated and not based on actual threats (other than the GOP and Bush losing elections!).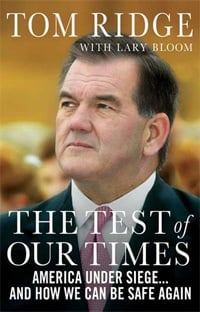 From Thomas Dunne publishers tease of The Test of Our Times: America Under Siege…and How We Can Be Safe Again:
A "law and order" Republican who was on the shortlist to be John McCain's running mate in 2008, Ridge writes with refreshing candor on both the successes and missteps of the DHS. He details the obstacles faced in his new post—often within the administration itself—as well as the failures of Congress to provide for critical homeland security needs, and the irresponsible use of terrorism by both parties to curry favors with voters. Ridge also reveals:
• How the DHS was pressured to connect homeland security to the international "war on terror"

• How Ridge effectively thwarted a plan to raise the national security alert just before the 2004 Election

• How Ridge had pushed for a plan (defeated because of turf wars) to integrate DHS and FEMA disaster management in New Orleans and other areas before Hurricane Katrina.
Paul Bedard of U.S. News and World Report: "Ridge was never invited to sit in on National Security Council
meetings; was 'blindsided' by the FBI in morning Oval Office meetings
because the agency withheld critical information from him; found his
urgings to block Michael Brown from being named head of the emergency
agency blamed for the Hurricane Katrina disaster ignored; and was
pushed to raise the security alert on the eve of President Bush's
re-election, something he saw as politically motivated and worth
resigning over."
Ridge denied in 2004 that the security alert changes were politically motivated.