The Jerusalem gay center Open House, in response to last month's shooting in Tel Aviv, in which two people were shot and killed and 15 others injured during an attack by a lone gunman, has made some sizable security changes.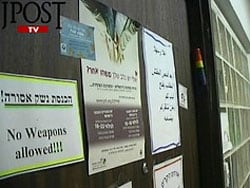 "'We realized the day after the vicious attack in Tel Aviv that we might have been a little naïve in our expectation or how our surroundings react to us and the level of violence and hatred facing us as a community,' said [executive director Yonatan] Gher. 'We realized there were more steps we needed to take preserve our own community.'
In addition to employing an armed guard who carefully unlocks and relocks the door after searching each visitor, Gher said the center had also installed emergency buttons around the building linked to a private security firm, was strengthening its ties with Jerusalem police, and had implemented other undisclosed security measures.
Gher said that though tension in Jerusalem between the LGBT and some elements in the Orthodox community had recently eased, in part because of a truce bartered with Haredi leaders in 2008, opposition toward the community center and its membership was still manifest."
The gunman responsible for the attack is still at large.