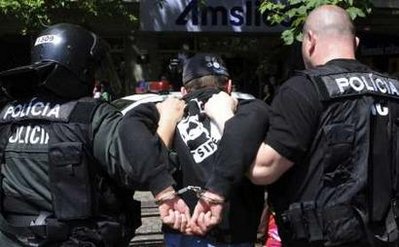 The very first gay pride parade in Slovakia ended the same way another Eastern European country's pride parade ended last weekend– in violence. Participants were attacked yesterday by about 80 hateful neo-Nazis who threw stones, eggs and smoke bombs into the crowd of marchers. According to the AFP news service, one participant, Ulrike Lunacek, an openly gay Euro-MP from Austria, was struck with a rock. The parade was promptly canceled by police.
Organizers are pointing the finger at police, who they say had been informed of the event far in advance, yet had still sent an insufficient number of officers to keep order. One organizer says that the police "were clearly unprepared to face such a situation, despite our warnings."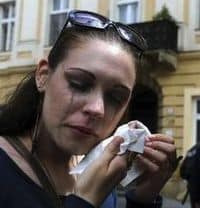 The Slovak Spectator is reporting that others are also blaming the police in their failure to protect the participants:
"Instead of the parade of pride, Slovakia has experienced a day of shame," wrote Sme's deputy editor-in-chief Lukáš Fila in his commentary suggesting that the attack by the neo-Nazis against the participants shows a failure by the state. Fila states that if the state was unable to secure order at an event which had been announced months in advance and about which all media had been reporting and to which foreign diplomats had confirmed their presence, then in what other areas are the police incapable of securing public order?"
1,000 people participated in the pride parade. Eight skinhead protesters were arrested.
A short video of the parade is AFTER THE JUMP.