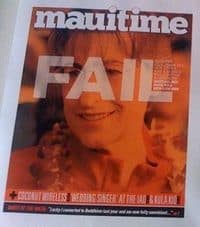 UPDATE: Lambda Legal and the ACLU are preparing to sue.
Hawaii's Republican governor has vetoed Hawaii HB 444, the bill that would have allowed for same-sex civil unions in her state. It's gonna cost Hawaii in the long run. So much for allowing the legislature to legislate.
Perversely, Lingle invited Justice Steven H. Levinson to witness her announcement. Levinson's 1993 opinion found that the state's law against same-sex marriage violated equal-protection rights.
In her announcement, Lingle declared the bill "so important it should be decided by the people," indicating our rights should be put to a vote.
Via Joe.My.God.: The Maui Time cover was prepared (along with an alternate) in advance of Lingle's decision.
After the jump, see passionate reactions to Lingle's decision, both pro and con…