"I am not Brian's keeper."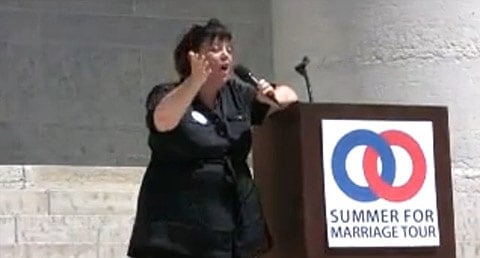 Didn't have a chance to post this on Friday. NOM's pathetic hate-a-palooza tour continues today in Indianapolis.
Former NOM President Maggie Gallagher, whose organization pumped millions and millions of dollars to revoke marriage rights from families in California and Maine, had the gall to criticize demonstrators at NOM's sparsely-attended tour stop in Columbus, Ohio, declaring "hate is not a family value."
Check out the tiny crowd there to support her hateful agenda at 2:24.
NOM Tour Tracker also interviewed Gallagher briefly, asking about the absence of NOM's executive director Brian Brown in Columbus.
Answered Gallagher: "I'm not Brian's keeper."
Watch, AFTER THE JUMP…