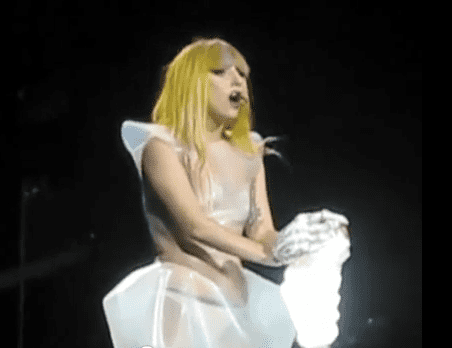 A few days ago GetEqual urged Lady Gaga to join in the boycott of Arizona by canceling her concert in Phoenix or take a stand against the state's recent immigration law, SB 1070. Looks like she chose the latter.
Gaga tweeted this before her concert last night: "Tonight we will continue to actively protest social and political injustices in Arizona. We will sing, we will stand up, + we will be heard." She then took a few minutes during her show to address SB 1070.
Some quotes from Gaga:
"I got a phone call from a couple of really big rock and rollers, big pop stars, big rappers and they said   'We'd like you to boycott playing Arizona because of SB 1070' and I said, 'You really think that us dumb fucking pop stars are gonna collapse the economy of Arizona?'"
"I'll tell you what we have to do about SB 1070. We have to be active. We have to actively actively protest and the nature of the Monster Ball is to actively protest prejudice and injustice and the bullshit that is put on our society."
"I will not cancel my show. I will yell and I will scream louder and I will hold you and we will hold each other and we will peacably protest this state. Do not be afraid because if it wasn't for all of you immigrants, this country wouldn't have shit."
Watch a clip of her speech, AFTER THE JUMP.
Related, the state won't see a review of the law before this November.