Target Corporation says it will not honor the Human Rights Campaign's request to "make it right" over its sizable donation to MN Forward, a conservative political PAC which has funded campaign ads for anti-gay gubernatorial candidate Tom Emmer. Emmer supports an amendment banning same-sex marriage in Minnesota, among other anti-equality measures including preventing gay and lesbian couples from using a surrogate mother. 
HRC is responding by putting $150K toward pro-LGBT Minnesota candidates, the group says in a press release: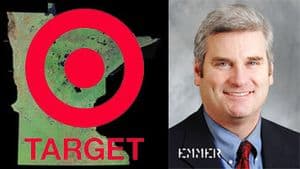 "After two weeks of good-faith discussions, and two tentative agreements, with Target Corporation, the company has informed the Human Rights Campaign (HRC), the nation's largest lesbian, gay, bisexual and transgender (LGBT) civil rights organization, that it will be take no corrective actions to repair the harm that it caused by contributing $150,000 to an organization supporting a vehemently anti-gay candidate closely associated with a Christian rock band that advocates death and violence to gay people. In response, HRC announced that it will devote $150,000 of its own resources to help elect a pro-equality governor and legislature in Minnesota. The next governor will likely have the opportunity to either sign or veto marriage equality legislation in the North Star State. 
Said HRC President Joe Solmonese: "All fair-minded Americans will now rightly question Target's commitment to equality. If they're initial contribution was a slap in the face, their refusal to make it right is a punch in the gut and that's not something that we will soon forget. However, with full marriage equality hanging in the balance in Minnesota, regardless of Target, it's important that we as a community send a message that we will work tirelessly to elect pro-equality candidates."
HRC tells Towleroad it will be supporting Mark Dayton for governor as well as fund "pro-equality legislative candidates and pro-LGBT causes."