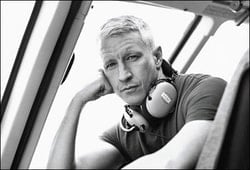 Anderson Cooper announced today that he's finalized a deal to host a syndicated daytime talk show that will address everything from serious news to entertainment to general "watercooler" chatter. The hard working newsman will also continue hosting his nightly show.
ABC series Modern Family finally gave in to common sense and had their gay characters kiss. Twelve million people tuned in for the "event," giving the comedy its third highest ratings.
Rachel Maddow wonders whether New York's angry Tea Party gubernatorial hopeful Carl Paladino finds inspiration in Joaquin Phoenix.
The Service Employees International Union has launched a Spanish-language ad
against California gubernatorial candidate Meg Whitman after it was
revealed that one of her former housekeepers was undocumented.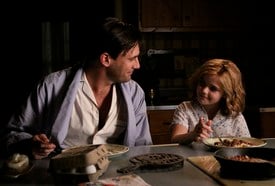 Kiernan Shipka, the 10-year old who plays Don Draper's daughter on Mad Men, isn't allowed to watch the show., but has no trouble tapping into Sally Draper's angst:
"Don is absent and Betty has never once catered to Sally's emotional
needs, so I feel that they're not the best parents." Again, this girl is
10.
Snooki is writing a novel. A memoir I could maybe understand, but a novel?! Sigh.
Why Southwest and AirTran's merger is good for gays.
Iowa Supreme Court's Chief Justice Marsha Ternus defended her and her peers' decision to legalize gay marriage, and made clear that they weren't influenced by outside pressures: "Although it may be appropriate for politicians to consider public opinions the views of special interest groups or even their personal view when drafting law and regulations. But it is never appropriate for a judge to do so."
Democratic Sen. Robert Menendez has introduced a comprehensive, LGBT-inclusive immigration reform bill. "Senator Menendez's bill will set the stage, in this Congress and the
next, for a serious debate on fixing our broken immigration system," said Immigration Equality's leader, Steve Ralls.
The Queer Justice League stopped by Georgia Sen. Saxby Chambliss' office to deliver a letter voicing their disapproval of the way he's handling news that one of his staffers left an anti-gay message on the website Joe My God. Considering his inaction thus far, what are the odds are going to sway the Republican lawmaker?
Rest assured that Sandra Bernhard will not be doing a reality television show anytime soon: "That's not for Sandy. I don't see the reality thing happening now. I
don't think there's any room left to do anything inventive. They don't
want inventive. They wanna be hit over the head with this stuff. And,
you know that's not where I come from."
The Southern Poverty Law Center next week will release a documentary called Bullied: A Student, a School and a Case that Made History, which tells the story of Jamie Nabozny's struggle with homophobic classmates, as well as his lawsuit against his school. This film is eerily timely.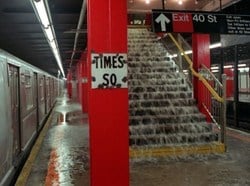 Can New York City's subway system survive a massive tropical storm or hurricane? No, not really.
Iranian national Ramin Haghjoo would like to return home, but he knows Mahmoud Ahmadinejad's regime would never allow him to be openly gay, so Haghjoo hopes the U.S. will grant him asylum.
Justin Timberlake sings and networks with Jimmy Fallon.