Ari Ezra Waldman is a 2002 graduate of Harvard College and a 2005 graduate of Harvard Law School. After practicing in New York for five years and clerking at a federal appellate court in Washington, D.C., Ari is now on the faculty at California Western School of Law in San Diego, California. His research focuses on gay rights and the First Amendment. Ari will be writing weekly posts on law and various LGBT issues. 
Follow Ari on Twitter at @ariezrawaldman.

It has long been part of the meme of the gay rights movement that, in effect, the United States taxes homosexuality. Various state and federal laws tend to create extra costs for single, partnered and married gays and lesbians by dancing a discriminatory two-step: There is no direct "gay tax" — that would be grossly unlawful — but many laws do not recognize gay relationships, making us strangers to thousands of state and federal benefits that our heterosexual friends take for granted.
With our 2010 taxes due in a few days, an activist organization called "Refuse to Lie" has taken this problem by the horns. The organization has asked gay couples to consider the following paradox: Federal law makes it illegal to lie on tax forms, and yet when a legally married same-sex couple files as two separate single individuals, as the Defense of Marriage Act (DOMA) requires, the two partners are lying.
But, flouting federal tax law by filing as a gay married couple is a risky prescription, even for those willing to fight for our rights in the trenches. Violating federal law is not like getting arrested at a sit in and spending a few hours in the clink. It can result in fines, other financial penalties, audits, opportunity costs and significant jail time. Is it worth it?
Let's consider what the law is and then tell us how you will be filing your federal taxes,
AFTER THE JUMP…
To be fair, "Refuse to Lie" is responsible enough to warn gays and lesbians up front that they cannot file as married for federal purposes even if they are legally married. DOMA excludes gays from the federal definition of marriage, so as far as the Internal Revenue Service (IRS) is concerned, gay couples cannot ever be "married." So, the first suggestion from "Refuse to Lie" is to file as single, put an asterisk next to it and supplement your filing with a note that says that you are filing as single under protest and that by stating you are single, you are in no way disavowing your lawful marriage. It's a good idea: It raises symbolic opposition without putting you at risk for penalties.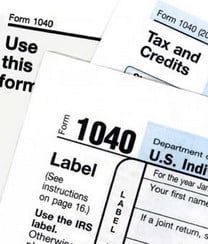 "Refuse to Lie" also notes that Section 6664(c) of the Internal Revenue Code provides that "no penalty shall be imposed [for the underpayment of tax] if … there was a reasonable cause for [the underpayment] and the taxpayer acted in good faith…." In other words, you cannot be penalized for paying less if you had a valid reason to believe you could pay less than you owed. You could argue that Judge Joseph Tauro's 2010 decision declaring DOMA unconstitutional and President Obama's decision to stop defending DOMA in federal court are sufficiently reasonable bases for believing that DOMA is indeed unconstitutional and should not force you to pay higher taxes. However, a district court decision and the Obama Administration's legal strategy are far cries from a clear indication of the end of DOMA. It occurs to me that gay married couples in Massachusetts, where Judge Tauro sits, have a more reasonable, good faith belief that DOMA no longer applies to them, but since the cases are on appeal, they are hardly definitive rulings.
There are other options: File both a joint and single return, pay the single amount and declare your reasonable, good faith belief that DOMA does not apply anymore and ask for a refund. You could also file single returns, then file an amended joint return along with an IRS 843 (request for abatement or refund) based on the unconstitutionality of DOMA.
Gay couples taking these actions would not be the first couples of challenge federal tax laws they find unfair or unreasonably penalizing married couples. Some years ago, a couple challenged the so-called "marriage penalty," which is the increasingly common phenomenon that married individuals, both of whom work, pay more federal taxes when they file jointly than when they file single. This couple refused to pay the "penalty," challenging the constitutionality of the applicable federal law, but a federal appellate court upheld the law. The couple not only had to pay the "penalty," but also late fines, a higher bill to their tax preparer and significant emotional and opportunity costs for going through an always trying conflict with the IRS.
At bottom, the "Refuse to Lie" campaign is a campaign for the wealthy, for people who are willing to give up time, money and energy, and willing to risk high fines and a large bill from an accountant, in order to make a statement about the validity of their marriage and all same-sex unions. Couples of lesser means do not have the opportunity to join this fight, except to file their taxes individually and include a symbolic note that their filings do not disavow their state sanctioned marriage. And, it would be difficult to base any underpayment on the current state of the DOMA cases, which means that even wealthier couples ready for a fight are not just risking a battle, but are going to get one.
I recommend you consult your tax preparer before making any decision and before making even symbolic statements to the IRS.
How do you plan on filing? What considerations are you factoring into your decision? What do you think of the "Refuse to Lie" campaign?