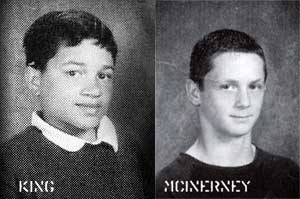 It's hard to believe that it has been three years since 14-year old Brandon McInerney allegedly walked into his middle school classroom and shot his classmate, Lawrence King.
But, it has been, and now McInerney's trial is set to start today in Los Angeles, where his defense attorneys reportedly plan on playing the "gay panic" card to explain his actions that fateful day.
From the Los Angeles Times:
McInerney's lawyers, Scott Wippert and Robyn Bramson, say their client doesn't deny the killing. But they argue it was voluntary manslaughter because the adolescent was provoked by King's repeated sexual advances.

Fellow students say the two had clashed for days over King's expressing his attraction to McInerney. King, who was living in a children's shelter because of problems at home, had recently gone to school wearing eye makeup and women's accessories.

McInerney was humiliated by King's advances, his attorneys said. He came from a violent home and decided to end his misery in a way that made sense to him — with a gun. He shot King "in the heat of passion caused by the intense emotional state between these two boys at school," Bramson said last week outside the courthouse, where jury selection was underway.
McInernery's lawyers will also argue that their client was too young to fully understand the scope of his actions and to deal with King's "advances," which it sounds like they plan on painting in the most predatory light possible.
Prosecutors, meanwhile, will argue that McInernery, now 17, planned his attack and should therefore be charged with a hate crime.