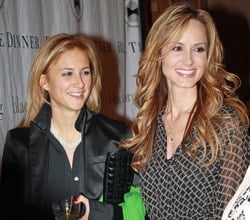 A hearty congratulations to lesbian country singer Chely Wright, who this weekend married her long-time girlfriend, activist Lauren Blitzer.
Via E! News:
[The women] got hitched Saturday in front of 200 guests at Lauren's Aunt's home in Connecticut. As for the most important question the dresses? Both brides donned traditional white gowns, yet decided to not wear veils as they told the mag: "We like our hair too much!"
…
As for the menu, although a vegan, Chely let Lauren make the decision to serve barbecue from New York's Blue Smoke, exclaiming, "Lauren's idea—not my influence!"
The women also had both a rabbi and a reverend officiate, since Wright is Christian, but Blitzer is Jewish.
Said Wright to People magazine of the big event: "The freedom of being out and open about who I am allowed me to find and fall in love with Lauren – the most amazing woman I've ever known."