Brazil's Supreme Appeals Court overturned rulings by two lower courts yesterday and said that two women can be legally married, the AP reports.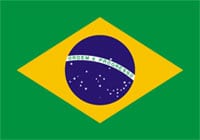 AFP adds:
In a 4 – 1 vote, the highest federal court ruled that the Constitution "makes it possible for stable civil unions to become marriages".
Indeed "sexual orientation should not serve as a pretext for excluding families from the legal protection that marriage represents", the court said in a statement. Brazilian federal law has not specifically legalised same-sex marriage. And while state courts are not required to follow the same line as the highest court, the Supreme Court ruling should play some role in discouraging Brazil's states from blocking same-sex marriage, legal experts say.
Brazil's Supreme Court approved civil unions in May.