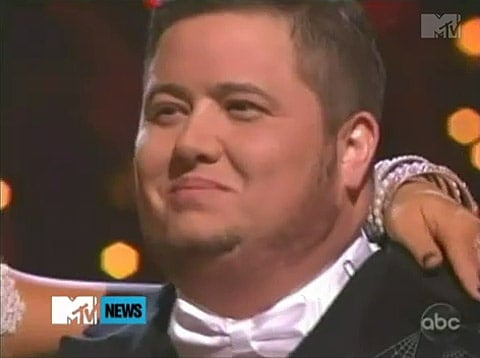 Chaz Bono was eliminated from Dancing with the Stars last night after a season that turned up none of the controversy predicted by right-wing blowhards like Dr. Keith Ablow.
Said Chaz upon his departure:
"I took so much away from this. This was an amazing journey that really pushed me and showed me that I could do so much more than I ever thought I could. I came on this show because I wanted to show America a different kind of man. If there was somebody like me on TV when I was growing up, my whole life would have been different. And so I dedicated everything I did to all the people out there like me and especially to kids and teens who are struggling. You can have a wonderful, great life and be successful and happy."
Watch, AFTER THE JUMP…
Said Bruno Tonioli of his tango the night before: "It was like watching a cute little penguin trying to be a big menacing bird of prey. This is the truth: It has to be menacing. Dark. Dangerous. Naughty. The tango wants to be driven continuously. It is hard. It's very difficult. To me, this character didn't fit you."
Watch Chaz's tango and part of his good-bye message, AFTER THE JUMP…
Cher responded to Chaz's elimination on Twitter: "I Have Got 2Hold my TEMPER ! MY Tears R OK ! Congratulations Chaz I'm SO PROUD OF U ! This was YOUR Quest…& u Followed your Star"
The tango: