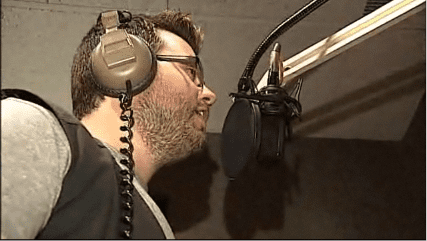 Once upon a time, Delaware Christian School was thrilled to boast about its semi-famous alum, David Emerson. And why not? He's a respected radio personality in Columbus, OH, and in his professional life he exemplifies a lot of good, bedrock American virtues. He's hard working, producing a morning show on Sunny95 FM before dashing off to do afternoon broadcasts on Rewind 103.5. He's a good Christian boy, having once hosted shows on an upbeat Jesus-centric station called JOY FM. And on his LinkedIn profile, Emerson claims to be a serious self-starter, willing to hurl himself at unfamiliar broadcasting and sound-editing software with a cheerful determination to learn well and fast. Maybe most impressively, he's a 26-year-old somehow hacking out a living as a full-time media person. Not so easy in 2011.
So, yeah, why wouldn't Delaware Christian School feature Mr. Emerson on its Alumnus Page?
Oh. Because he's gay.
Apparently, the webmaster at the school's website yanked Emerson's page last April month after learning about Emerson's sexual orientation. It's unclear what they hoped to accomplish, even though Delaware Christian's principal, a Mr. Gordon McDonald, issued this statement to ABC6:
David Emerson is a fine young man of whom I think very highly. I am very proud of his professional accomplishments. I regret the deep differences that have occurred. However, speaking for the Delaware Christian School I cannot approve of the lifestyle he has chosen to endorse as posted for public viewing on his Facebook site.
Translation: "If you attend my school, I will stalk your Facebook page ever-after, seeking out signs of unChristian behavior." Sweet. Sign me up.
McDonald continues:
Based on David's posting last April I removed David's photo and comments from our alumni website. He has publicly chosen to identify himself with a lifestyle that is not in keeping with the biblical belief taught at Delaware Christian. I respect his right to choose and live out his belief but do not want to convey the message that I approve that lifestyle. [sic]
Well. You gotta admire someone with that kind of integrity. Ever since McDonald rid the alumnus page of all its divorcees, pro-choicers, agnostics, pre-marital cohabitators and Sunday church-skippers, nobody's for a moment doubted the school's sincer —
What's that? He only got rid of the gay guy? Oh. In that case, he's just nasty.
Check out ABC6's coverage of McDonald's ridiculousness AFTER THE JUMP…