An act of vandalism directed toward North Carolina State University's LGBT group in which "FAGS BURN" and "DIE" was spray painted across a door and showcase has prompted the student governement to pass a resolution opposing the proposed amendment constitutionally banning same-sex marriage in the state, WTVD reports: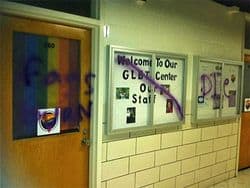 On Wednesday night, the student senate passed the resolution in a 29-6 vote, despite the debate turning contentious. Some student senators said they felt it was too much of a hot button for them to take an official stand on for their entire student body.
It is the same amendment that hundreds protested for and against last month. However next May, North Carolina voters will be asked whether a ban on same-sex marriage should be written into North Carolina's constitution. In the meantime, students at NC State are selling bracelets for a brickyard rally Thursday in support of the GLBT community.
No reports on anyone yet being held responsible for the vandalism.
Watch a WRAL report on the debate, AFTER THE JUMP…