John Geddes Lawrence, Jr., 68, of Houston, Texas died Sunday, November 20, 2011. He is best known outside his close circle of family and friends as one of the named defendants (pictured below, with Tyron Garner (right), who also died much too young in 2006) in the federal case, Lawrence v. Texas, that declared Texas's discriminatory anti-sodomy law unconstitutional. He will be missed not only as a loving brother, uncle, and caring partner, but as a passionate advocate for gay rights who gave so much time, energy, and effort so that we can have the rights we enjoy today.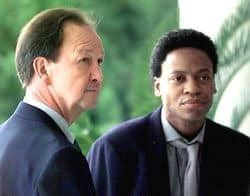 He was born August 2, 1943 in Beaumont, Texas and was a resident of Kountze, Texas until graduating from Kountze High School in 1961. He served 4 years in the Navy and worked as a Medical Technologist in Kountze and Houston hospitals until his retirement in 2009.
I never met Mr. Lawrence, but my colleagues who have always spoke of his realness, his quiet demeanor, and his unassuming approach to life. Suzanne Goldberg, a clinical professor of law at Columbia University Law School who helped litigate the case, remembered that Mr. Lawrence approached bringing the case with some trepidation: "he wasn't fully out at work ad to some family members," yet he "went ahead with courage and with awareness of the risks." This man wanted nothing more than to live his life in peace, to love the man he loved, and to express that love in the privacy of his own home. That it took a landmark Supreme Court case to recognize his right to do so is unfortunate, but Mr. Lawrence has achieved that rare gift of life: immortality.
His name will be part of every constitutional law class, every gay rights class, and every future case in which liberty and privacy are at stake. His case overturned every anti-sodomy law at the state level, overturned the odious Bowers v. Hardwick that misunderstood the quest for gay equality, and made our post-gay world possible. Mr. Lawrence allowed us to argue that we have the liberty to love whom we choose, the liberty to marry whom we choose, and the right to be left alone about it. Every successful piece of gay rights litigation cites Lawrence v. Texas and every success we have is thanks to our advocates' skillful interpretation and use of that case.
We owe him much. He sacrificed for us. Let us honor his sacrifice by never forgetting him.
AEW NOTE: This post was updated after publication to correct the erroneous designation of Mr. Lawrence as a plaintiff in the Lawrence v. Texas case. He was, in fact, a defendant. That was my error and I take full responsibility for it. Thank you to Lambda Legal representatives for correcting their post, which made me aware of my mistake. Apologies to readers!
***
Ari Ezra Waldman is a 2002 graduate of Harvard College and a 2005 graduate of Harvard Law School. After practicing in New York for five years and clerking at a federal appellate court in Washington, D.C., Ari is now on the faculty at California Western School of Law in San Diego, California. His research focuses on gay rights and the First Amendment. Ari will be writing weekly posts on law and various LGBT issues.
Follow Ari on Twitter at @ariezrawaldman.