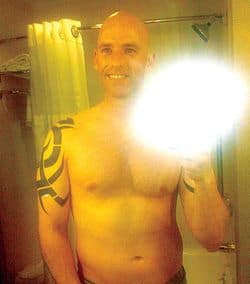 Sheriff Paul Babeu, of Pinal County, AZ, is one of the most recognized faces of American anti-immigration sentiment. He's been a FOX News regular. He appeared in a John McCain campaign ad calling for a border fence. In January, Babeu announced his run for the United States Congress in a macho press release headed "It's Time For a New Sheriff In Washington," in which he decried the "400,000 illegal crossings into our state every year."
Well. According to a story broken this week in the Phoenix New Times, Babeu spent much of the last decade in a long-term gay relationship with an undocumented immigrant named Jose, whom Babeu threatened with deportation after their relationship ended.
From The Phoenix New Times:
He says [Babeu's] lawyer Chris DeRose demanded he sign an agreement that he would never breathe a word about the affair. But Jose (New Times is withholding his last name because Babeu and his attorney have challenged his legal status) refused.

The 34-year-old from central Mexico charges that the sheriff's lawyer warned against mentioning the affair with Babeu. DeRose said gossip about Babeu would focus attention on Jose, attention that could result in his deportation, Jose says.

… Babeu didn't respond to requests for comment by publication time for this article, but his attorney, DeRose, says the dispute between Jose and the sheriff concerned Jose's work on Babeu's websites. He says Jose was a former volunteer who hacked into a campaign website.

DeRose didn't immediately address the other claims against him and the sheriff, except to say, "I never threatened to deport anybody" and that "[Babeu's] not threatening anybody."
Babeu and Jose allegedly met on Gay.com in 2006. At some point, Jose began doing web work for Babeu, maintaining his campaign websites, Facebook profile and Twitter feed. Their relationship began to disintegrate after Jose discovered Babeu's profile on Adam4Adam and created a false profile to see if Babeu was amenable to an affair. After many messages and explicit photos exchanged between Babeu and Jose's alter-ego (including Babeu's self-portrait, above), Jose's alter-ego arranged a date with Babeu at a steak house. (Babeu told Jose's alter-ego to "pack an overnight bag.") Babeu showed up and was shocked to discover Jose in the parking lot.
After the couple split, Jose began posting disparaging remarks about Babeu online. Texts exchanged by the men during that time are both sad and illuminating. From New Times:
Jose shared text messages between him and Babeu with New Times. A September 4, 2011, text from the sheriff reads: "You can never have business after this and you will harm me and many others in the process . . . including yourself & your family."

A couple of minutes later, Babeu followed with: "And you say you have loved me? Papi . . . this is no good."

Jose responded: "Good threats. Wont work. Im already hurt me . . . and you didn't care."

They exchanged more texts on September 6.

Jose: "Dont threat me. Thats illegal. Im just speaking . . . true."

Babeu: "You have crossed the line. Better get an attorney. You brother will also be contacted."
Since then, Jose claims he's been a constant target of harassment by Babeu and his lawyer. New Times writer Monica Alonzo solicited comment from Nancy Jo-Merritt, a "long-time Phoenix immigration attorney":
"If what [Babeu's attorney] says is correct [about Jose's being illegal], either the sheriff had a long relationship with someone he knew was undocumented, while all the time being Mr. Bluster about the border and using it for political gain," or he threatened to deport someone he just broke up with, Merritt says.

"That's just the worst kind of hypocrisy."

She adds that federal immigration-enforcement agents have better things to do than "take care of Babeu's boyfriends."