Ultimate Fighting Championship has come under fire in recent months for its homophobic past, with LGBT groups calling on Anheuser Busch to drop its sponsorship of UFC over the organization's failure to address homophobic behavior by its leaders and athletes. Which may be why Dakota Cochrane, a former Sean Cody actor who has reportedly been in more than 16 gay adult films and is now a contestant in the reality series The Ultimate Fighter, is getting attention. Cochrane, who performed under the name "Danny" for Sean Cody, says he is straight.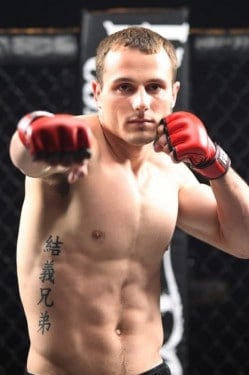 MMA Fighting reports:
"It's definitely a decision I regret," he told MMA Fighting. "If I would have known what would happen I definitely wouldn't have done it. But I had money issues and I needed help. I went there to do pictures, and they started throwing pretty high numbers in front of me. I didn't really think. It was a big mistake."
But no matter the size of the mistake, it was one he made no effort to escape on the eve of his biggest opportunity. On his audition tape for TUF, he included an introduction that mentioned all about his past. Everything.
"I think it's a little bit courageous for both of us," he said of the UFC's decision to include him on the show. "I could just hide in a hole and no one would know except for the people close to me. And to them, I was up front. I let them know right away so it wasn't anything that could come back and bite them in the butt. I think maybe they respected that a little bit. I think some people judge against it, some people will be OK with it. Some people will want me to get my butt kicked, and hopefully others will respect what I'm trying to do."
Said UFC Dana White last October: "I'll tell you right now, if there was a gay fighter in UFC, I wish he would come out. I could care less if there's a gay fighter in the UFC. There probably is and there's probably more than one."
Yahoo! Sports asks: "What will be the reaction from fans, hardcore and casual one this blows up on the blogosphere? The 25-year-old Cochrane is 10-2 in MMA and posted a win over former WEC lightweight champ Jamie Varner in September."
Dakota Cochrane Discusses Controversial Past as He Prepares to Chase UFC Dream [mma fighting]