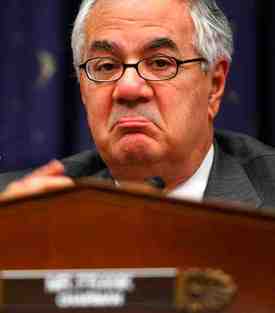 Gay Congressman Barney Frank made it quite clear Tuesday night how he feels about Mitt Romney: the presidential candidate is "despicable." Well, his gay politics are, at least.
Speaking with the Washington Blade after a National Stonewall Democrats event, Frank said that Romney's recent remarks about nuptial equality — that he prevented Massachusetts from "becoming the Las Vegas of gay marriage" while that state's governor — downplay the importance of same-sex love.
"That's saying our marriages were a trick, were a sham," Frank said. "He's clearly prepared to embrace the most — oh, and supporting a constitutional amendment. What that says is that existing marriages are abolished. That's just outrageous."
Frank also says that Romney's "lying" when he says he opposes discrimination — "How does he oppose discrimination? He's not for any legislation that would make it illegal. So how does he oppose it? He is for a discrimination that would dissolve all the existing marriages. So what does that mean when he says that?" — and insists the candidate deserves no praise for hiring an openly gay man, Richard Grenell.
"We're beyond giving people credit for not overtly discriminating," said the congressman.