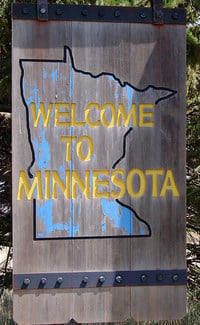 Conservatives in Minnesota thought they could use tried and true methods to pass a Constitutional ban on marriage equality there. Apparently they were wrong.
The Bangor Daily News reports that the group, Minnesota for Marriage, is finding itself on shaky ground after General Mills came out against the amendment and as pro-equality activists rapidly outrace them. And then there's the religious climate, which is not as hospitable to hate as the right wing imagined:
In past same-sex ballot question fights, amendment supporters found that 40 percent of their votes came from Democrats. But, [strategist Frank] Schubert noted, libertarian-leaning Republicans tend to reject the marriage amendment as government intrusion. That leaves him to thread a unique and fragile coalition.
…
That's why Minnesota for Marriage has worked relentlessly to coordinate with churches and various religious groups.

Religious observers say church activity is likely to tick up by September. Supportive pastors are expected to preach on the issue, endorse the amendment, even raise money to support the measure.

Twin Cities Roman Catholic Archbishop John Nienstedt warned clergy members there should be no "open dissension" of the church's backing of the amendment.
But there are noticeable cracks in the Catholic coalition.

In May, the group Former Priests for Marriage Equality released a list of 80 former Minnesota Catholic priests against the amendment.

In May, nearly 200 Catholics from across Minnesota met in a Methodist church in Edina to discuss how they're working within their churches to defeat the amendment. At the event, the Rev. Bob Pierson, a priest at St. John's Abbey in Collegeville, said he'd be voting no on the amendment.
Popular opinion on marriage equality is also drifting toward inclusion. A recent poll from early June showed only 43% of Minnesota residents want a ban on gay marriage; that was down from 48% in February. Forty-eight percent of the state, meanwhile, oppose the bigoted amendment.