Cardinal Keith O'Brien, Britain's top Catholic, says that "intense public interest in the issue" warrants a public referendum on same-sex marriage in Scotland, as the government prepares to announce legislation on it, the BBC reports: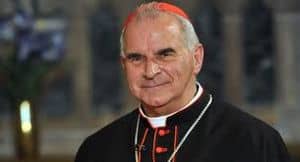 Scots ministers, who favour same-sex marriage, are to announce legislation this week after their consultation resulted in 80,000 responses.
Same-sex couples in Scotland currently have the option to enter into civil partnerships and the Holyrood government has insisted no part of the religious community would be forced to hold gay weddings in churches…
…Cardinal O'Brien, leader of the Catholic Church in Scotland, said the marriage consultation received three times more responses than the government's consultation on the independence referendum, which saw more than 26,000 people share their views.
O'Brien already plans to fund a campaign opposing marriage equality to the tune of £100,000 through special church collections.