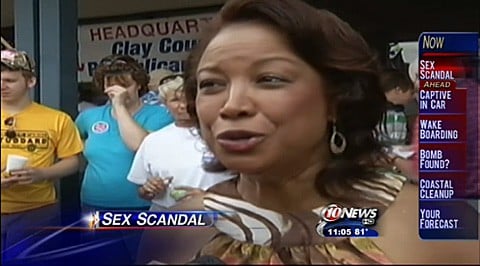 A former aide to Florida Lt. Governor Jennifer Carroll says she walked in on Carroll and another woman. Carroll responded outside a Romney campaign office, WTSP reports:
Carletha Cole claims she walked in on a sexual encounter between Carroll and Carroll's travel aide, Beatriz Ramos. Cole worked as an administrative assistant to Carroll. Cole is a grandmother and a minister.
Carroll says, "The problem is that when you have these accusations that come out, it's not just one person you're attacking. It's an entire family. My husband doesn't want to hear that. He knows the type of woman I am. I mean, my kids know the type of woman I am. For twenty-nine years – I'm the one that's married for twenty-nine years. The accuser is the one that's been single for a long time. So usually black women that look like me don't engage in relationships like that."
Cole has passed a polygraph test about the incident, and claims that after she witnessed it Carroll did everything in her power to destroy her.
Watch, AFTER THE JUMP…