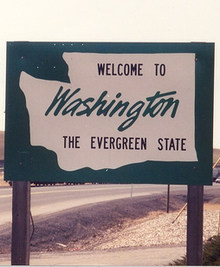 A Washington State campaign defining marriage as being between one man and one woman failed to gather the necessary signatures to get on the November ballot.
The Olympian reports:
The citizen initiative that would spell out that marriage is only between a man and a woman won't qualify for the November ballot. Its sponsor, Stephen Pidgeon of Everett, says Initiative 1192 is more than 140,000 signatures short ahead of Friday's deadline for turning in petitions to the Office of the Secretary of State in Olympia, and he concedes it won't happen.

"I hate to say it … but we're just not going to cross the threshold. We're not going to make it. This measure is not going to be on the ballot," Pidgeon said of I-1192.
But Washington voters still have to decide on Referendum 74, which will decide whether or not to allow a legislature-approved marriage equality law to go into effect. The push to pass the referendum ("Yes" vote means equality law remains in place) has massive funding from people like Bill Gates and marriage equality has majority of public support.