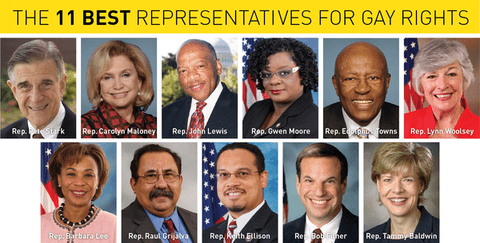 The website ThinkProgress last week rounded-up the seven most anti-gay U.S. Representatives. This week they've followed up with a tally the most pro-equality Representatives.
California Congresswoman Barbara Lee comes in first, thanks to her co-sponsorship of 23 out of 27 pro-LGBT laws. Though D.C. Delegate Eleanor Holmes Norton also backed 23 pieces of legislation, she is a non-voting member and therefore not part of the 11.
The other ten are all Democrats: Reps. Tammy Baldwin, Keith Ellison, Bob Filner, Raul M. Grijalva, John Lewis, Carolyn Maloney, Gwen Moore, Forney "Pete" Stark, Edophus Towns and Lynn C. Woosley.
You can read the break down of who's done what over at ThinkProgress.