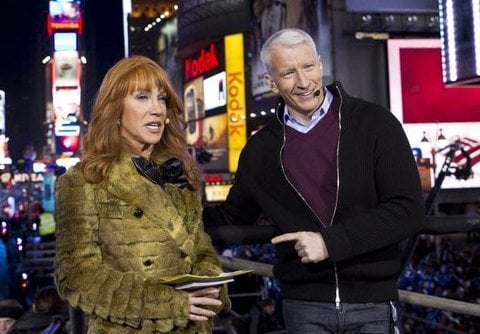 Scores of gay stars are offering Anderson Cooper congratulations for coming out. Most of them used Twitter to do so — Ellen Degeneres @ed Cooper with the message "I'm proud of you" and Neil Patrick Harris wrote "Good for you, @AndersonCooper. You're awesome." — Cooper's best pal Kathy Griffin used 1125 words to offer her take at The Daily Beast.
Her introduction sums Cooper up:
My friend Anderson Cooper is the scion of one of America's great shipping and railroad families, the Vanderbilts. He's covered the military coup and eventual unseating of the democratically elected (albeit bat-shit crazy) Haitian president Jean-Bertrand Aristide. He's covered the small wars in Africa that use children as slave soldiers. He knows more about the women of The Real Housewives than perhaps even I do. He's covered the seemingly endless large wars in Iraq and Afghanistan. And by "covered," I mean he's really gone and covered them—with a security detail and without; embedded with troops and unilaterally—not from the relative safety of the Green Zone in Baghdad or the international zone in Kabul. He's sat down with despots in countries like Somalia, covered the atrocities in the Balkans and Burma. And he also happens to be gay.
Griffin also discusses what it was like before Cooper came out, like when she would gripe about constantly having to talk around his private life. Cooper would reply, "Kathy, I don't get asked as much about my sexuality as you get asked about my sexuality. But here's my standard party line: 'I want to report the news. I don't want to be the news.'"