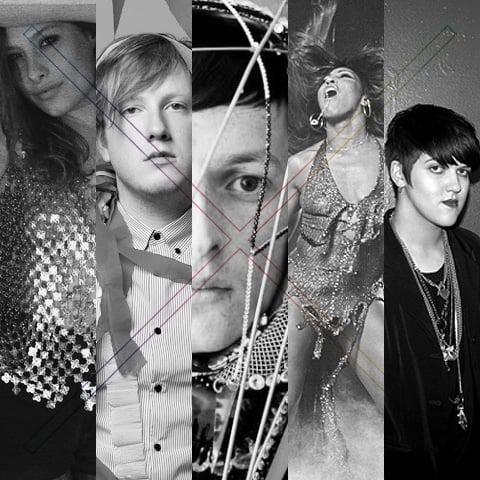 BY OCCUPY THE DISCO / RU BHATT
The OXD Mirror is a weekly music column brought to you by the boys of OCCUPY THE DISCO (OXD), a New York City based movement created by three music lovers, Ru Bhatt, Josh Appelbaum, and Tadeu Magalhães, who want to share their love for disco, house and dance music with the world. 
Friends – 'Friend Crush (Leo Zero Remix)'
Friends hails from Bushwick, Brooklyn and is appropriately fronted by two life-long friends, Samantha Urbani and Lesley Hann. They released their debut album, Manifest!, earlier this summer. The lead single is a fun rock-pop dance ditty that tells the story of a 'Friend Crush,' a feeling we've all likely had at some point in our lives. With this remix, British producer Leo Zero gives the track a very playful boogie-inducing disco wash.
Two Door Cinema Club – 'Sleep Alone'
Two Door Cinema Club hit the scene in 2010 and gained critical acclaim with their debut album, Tourist History. This Irish band (signed to French record label, Kitsuné Music) is back with their sophomore effort, Beacon, which was recorded in Los Angeles with producer Jacknife Lee. Their lead single, 'Sleep Alone,' shows they have not strayed far from their original baseline hopping, indie-pop sound. The percussive track showcases lead singer Alex Trimble's unique voice as his melodies soar amongst incredibly fast guitars in a frenzy of pop music guaranteed to make you dance.
Totally Enormous Extinct Dinosaurs  - 'Stronger (Miguel Campbell Remix)'
Orlando Higginbottom is a UK producer better known as Totally Enormous Extinct Dinosaurs (T-E-E-D).  After dropping a series of successful singles and EPs, and remixing big names such as Lady Gaga, and Katy Perry, T-E-E-D released his first album, Trouble in June. The Miguel Campbell remix of his second single, 'Stronger', smoothes out the original version's quirky pop rhythms, giving it a classic four-four disco beat with a much more chilled out and more palatable track.  Aside from anything he does musically, T-E-E-D also knows how to put together an interesting look with his outstanding headwear. 
MORE TRACKS, AFTER THE JUMP…
The XX – 'Angels (Bodhi Remix)'
When The xx announced they'll be releasing a sophomore album, Coexist, it seemed as though a collective sigh of relief was given by music bloggers around the world. Their self-titled debut album was arguably one of the best of 2009, and after producing a few tracks for big names like Rihanna and Drake, it seemed as though everyone was yearning for them to create more original music. A first listen of their lead single, 'Angels,' sounds very similar to their previous efforts with its intimate murky-pop feel. However, after about a minute, the beat comes in and brings the band to a place they haven't really been before: the dancefloor. Bodhi's remix, though unofficial, perfectly highlights this feeling and illuminates the fact that The xx are experimenting with their sound in a subtle manner, which is quite true to their fashion.
Tina Turner – 'What's Love Got to Do (Zimmer Rework)'
It might seem as the Balearic Disco / R&B wave of music never stops, but I felt moved enough by Zimmer's fantastic remix to include it on this week's Mirror. The French-Californian producer showcases Turner's soulful vocals against a warm, lazy, swaying beat that instantly refreshes the classic song. I originally heard this track on Zimmer's mixtape, Sage Paradis, which is available to download for free. If you're a fan of The OXD Mirror I highly recommend downloading, as it is my favorite poolside mix of the summer and it includes a few tracks I've posted before from artists like The Rapture & Moon Boots.
OCCUPY THE DISCO (OXD) curates and recommends music events to the gay community in NYC—in an effort to move the focus of the nightlife scene beyond the promoter and venue and to the music itself. OXD's goal is to educate, entertain, engage and empower the gay audience to reclaim their ability to question and experience the unknown. The OXD Mirror will serve to showcase tunes that are definitely off-the-beaten-path but rightfully deserve the attention of the gay ear. It's music that will make you dance, dream, and most importantly, love.
This week's post was written and curated by Ru Bhatt. Check out more of his music picks on his podcast, The Ru-Mix.

For more information on OXD, check out our website and accompanying blog at www.occupythedisco.com, like us on Facebook, or follow us on Twitter: @OccupyTheDisco.