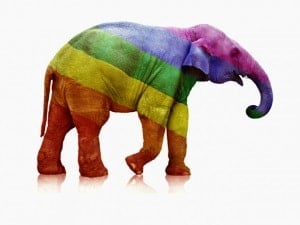 The "equality is a conservative value" argument got a big boost today in DC, where the group Young Conservatives for the Freedom to Marry launched a new program to win over right wing voters.
"Freedom to marry and family are core conservative values. We have a historic opportunity to reaffirm these important values by supporting the fundamental freedom to marry for all Americans," said Margaret Hoover, a conservative pundit and a director of the group, which is a spin-off of sorts from Freedom to Marry.
From the press release:
Young Conservatives for the Freedom to Marry is part of Freedom to Marry's campaign to demonstrate the broad and growing support for marriage across the ideological spectrum. Members of the group will make the case that the freedom to marry should not be a partisan question, and that supporting the freedom to marry fulfills basic conservative values of responsibility and community, as well as limited government and individual freedom.
Republican Congresswoman Ileana Ros-Lehtinen, a sponsor of the inclusive Respect for Marriage Act, is also lending her voice to the movement. "We believe that the individual and the family are the central engines in our society," she said.
"The right for individuals to lead their lives without government intrusion is a bedrock conservative principle and it is much more than just about sexual orientation. It is about the fundamental rights we all share as Americans, it is about equality for all with no exceptions."
Perhaps this will help make some people on the right more level-headed about upholding the American values they claim to respect.