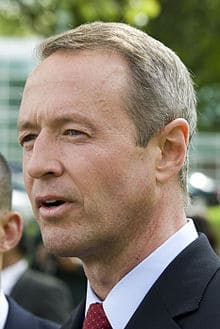 Last week, Marylanders for Marriage Equality announced an almost impossibly star-studded fundraising banquet to be held on September 13th. The guest list: Susan Sarandon, Sean Avery, Barbara Bush, Josh Charles, Thom Browne, Andy Cohen, Tom Colicchio, Julianne Moore, Edward Norton, Hilary Rhoda, Russell Simmons, John Waters, Sarah Jessica Parker, Julianna Margulies, Keith Lieberthall, Cornelia Guest, Kathleen Keener, Paul Boskind, Tonio Burgos, Brian Ellner, Ryan Greenwalt, Charles Myers, Ken Mehlman, Charles John O'Byrne, Larry Poston, David Rabin, Johnny Swet, and Maryland's Governor Martin O'Malley (pictured right). Wow!
The banquet's venue isn't in Maryland, probably because it's easier to move the banquet to its various VIPs than to move all the VIPs to Maryland. It's in SoHo, in Manhattan: the extraordinary James Hotel. Tix run from $250 a head to $25,000 for a top-shelf sponsorship package.
In November, Maryland may become the first state in the country to affirm marriage equality in a ballot referendum. Along with Maine and Washington, it'll be the first state to put marriage to the vote since Barack Obama and the NAACP came out in favor of equality. From the New York Times:
"The two biggest factors for us this year are that it's 2012, and public attitudes have continued to evolve," said Josh Levin, the director of Marylanders for Marriage Equality. "When the president talked about how his position has evolved over the course of some years, there are a lot of people for whom that's the case."

The ballot language will also be different in Maryland. In the other 32 states where voters have been asked about the issue, the referendum question was phrased so that a vote in favor of the measure was a vote to reject same-sex marriage. In Maryland, ballots will ask the question in the affirmative and will explain that there will be an exemption for religious groups.