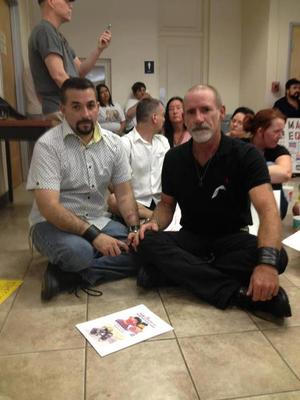 No, you are not having deja vu.
Texas-based activist Major Jiminez was arrested again this afternoon after he and partner Beau Chandler were denied a marriage license.
Both men were arrested last month in an action that highlighted the Lone Star State's anti-equality marriage laws, and were in court this morning for a hearing on that matter. It was postponed, leaving Jiminez and Chandler time to go to the marriage counter and ask for a marriage license. Again they were denied.
GetEQUAL, which worked with the men on their protest, provides more details:
While Beau elected to comply in order to ensure the he would keep his job, Major elected to sit down and refuse to move — resulting in a second arrest. At this time, the charges against Major are not known.

"Yesterday, people came out in force to eat chicken and support hatred," said Major Jiminez. "Today, I am being thrown in jail because of who I love. How can our lawmakers and courts sit by and do nothing?"
The original action and GetEQUAL helped inspire similar protests around the nation today. Activists from Albuquerque to Tampa headed to their local marriage counter and requested licenses the government keeps for heterosexual couples. There are apparently more actions on the way.
Image via GetEQUAL's Facebook.