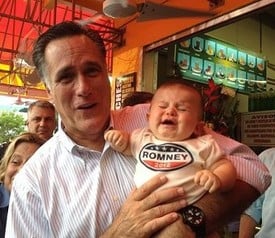 The Boston Globe dug into records dating back to Mitt Romney's tenure as Massachusetts governor and found that Romney and his administration had an — shocker — inconsistent policy when it came to altering birth certificates to recognize same-sex couples legally married in the state after a 2003 court win.
Looking over exchanges between Romney's administration lawyers and state Registry of Vital Records and Statistics, it seems male couples were told to obtain court orders to gain "second parent" status, while female couples were at times given more leeway.
Hospitals had to confer with Romney's administration for each and every child born to same-sex couples, even though the Registry recommended a universally inclusive policy, the paper found.
"[Romney] insisted that his top legal staff individually review the circumstances of every birth to same-sex parents," writes Murray Waas. "The practice of requiring high-level legal review continued for the rest
of Romney's term, despite a warning from a Department of Public Health
lawyer who said such a system placed the children of same-sex parents at
an unfair disadvantage."
Most of the birth-certificate reviews by the governor's office appeared cursory. For example, health department deputy counsel Wiesenberg e-mailed Brian Leske and Nielsen on Dec. 23, 2004, to ask permission to issue a certificate regarding one birth: "Birth at UMass Memorial Medical Center. Facts (married mother, same sex spouse, anonymous donor) are similar to 23 other cases that Mark has reviewed . . . [and] instruct[ed] the hospital to list mother & same sex spouse as the second parent on the child's birth certificate."

Leske e-mailed back: "You are authorized to inform the Medical Center that may list the same sex spouse as a second parent on the birth certificate."
In another case, Leske wouldn't let a same-sex couple be listed as parents because they weren't married, a direct contradiction of previous stances.
Romney's camp at the time said in public that the certificates were not changed because that would require legislative action; the Registry and existing records say otherwise.
Waas also found some old speeches Romney made, including one in which he tried to raise fears about same-sex couples somehow damaging a kid.
"Scientific studies of children raised by same-sex couples are almost nonexistent," Romney told the Senate Judiciary Committee in 2004. "It may affect the development of children and thereby future society as a whole."
One year later, in 2005, he made his position clear in a speech before social conservatives: "Some gays are actually having children born to them/ It's not right on paper. It's not right in fact. Every child has a right to a mother and father."
Romney presidential campaign had no comment on the report.