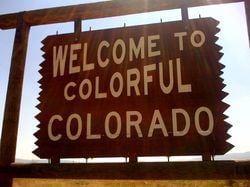 With many anti-gay Republicans routed out of Colorado's state government, LGBT activists and Democratic officials are confident they can finally pass civil unions there.
And according to the Denver Post, they're going to start almost immediately after the new session commences.
After two years of fighting over the issue, the Republicans who controlled the House and killed the measure are out of power, paving the way for a civil unions bill to head to Gov. John Hickenlooper, who supports legal recognition for same-sex couples.

But the victory will be bittersweet for Sen. Pat Steadman, the gay lawmaker who has led the fight for civil unions.

The Denver Democrat said he believes allowing gays to marry, rather than just form civil unions, would truly represent equality, but marriage is banned under Colorado's constitution.

And he won't be able to share the moment with his partner of 12 years, Dave Misner, who died in September after a brief battle with pancreatic cancer.

"It's going to be very sad for me, and sort of anticlimactic," Steadman said.
Asked why he's not pushing for marriage equality, Steadman again pointed out that voters amended the constitution to prohibit same-sex nuptials and even though he doesn't like it, he has to abide by the rules.
"As a state senator, I cannot propose marriage equality because our constitution forbids it, and I took an oath to uphold our constitution," Steadman told the paper. "But my oath also requires me to uphold the federal constitution and its promise of equal protection of the law. These obligations are in conflict and I cannot remain satisfied with the status quo."
[Image via Ivan Cockrum.]