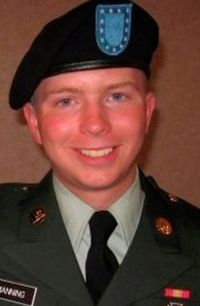 Col. Denise Lind, the military judge presiding over Bradley Manning's Wikileaks pre-trial, this morning accepted the language of the six charges to which Manning plans to plead guilty.
These pleas have not formally been accepted, but here's a breakdown:
Under the proposal, Manning would admit to willfully sending the
following material: a battlefield video file, some classified memos,
more than 20 Iraq war logs, more than 20 Afghanistan war logs and other
classified materials. He would also plead guilty to wrongfully storing
classified information.
The government is still considering how to move forward on the 15 other charges against Manning, including aiding the enemy by revealing classified information.