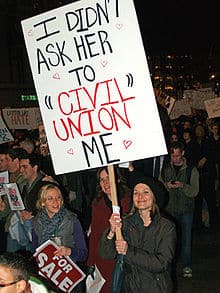 Reflecting on Tuesday night's big marriage equality wins, the New York Times editorial board today published a piece that sums up what these wins mean: the right can't act like there's some out-of-touch gay agenda trying to pull one over on the general public.
In a move that shows the shift in public opinion, voters in Maine and Maryland approved measures giving gay and lesbian couples the freedom to marry by decisive results. Early returns in Washington State also show that voters there have passed a same-sex marriage initiative. With these victories, opponents will no longer be able to argue that the movement for marriage equality is something imposed by radical judges and legislators, who are out of touch with the popular will.
…

There is still much work to do to secure the freedom to marry in every jurisdiction and end the odious Defense of Marriage Act that bars federal recognition of same-sex marriages performed in places where it is legal. It is a moment for the opponents of civil rights for all Americans — including Congressional Republicans, who are still defending the marriage act in court — to decide whether they want to continue to stand against justice to court a dwindling share of voters.
But according to Ari Fleischer, former press secretary under George W. Bush, the GOP is going to keep up its anti-gay platform.
"You're not going to make the party pro-choice and pro-gay rights and think you've made the Republican party the party that's the popular party. We have a party like that. It's the Democratic Party," he said during his post-election analysis.
You can watch video of that remark AFTER THE JUMP.