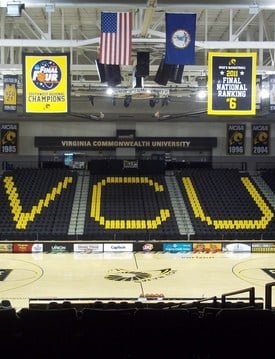 Officials at Virginia Commonwealth University say that an "exhaustive" investigation found former women's volleyball coach James Finley's claims was not fired for being gay, as he believes; the claims were "unfounded," they said.
"The Office of Institutional Equity's exhaustive investigation
confirmed that the employment decision was made in accordance with VCU
policies and not as the result of any discriminatory action by our
athletic director," said University President Michael Rao in a statement. "I continue to have confidence in the
process that produced the report and in Ed McLaughlin as VCU's athletic
director."
He went on to say that the school works "vigorously" to be as inclusive as possible. "I have a personal, passionate commitment to advancing
diversity in all of its forms and expect the same of my senior
leadership team.
Athletic Diretor McLaughlin made similar remarks, "Diversity and inclusiveness are core values for me, too, and VCU's diverse environment was one of the reasons my family and I chose to come here."
Finley, whose women's volleyball team just had its best season, said in November he was particularly suspicious of the circumstances around his "non-renewal" because a lesbian athletic official was demoted soon after his firing, again for no apparent reason.