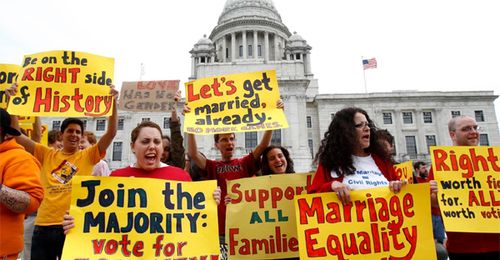 Most observers agree that marriage equality will comfortably pass through the Rhode Island House today. And while there's still the Senate to overcome, many are optimistic that's a done deal, too.
Marriage equality in Rhode Island just makes sense. Most Americans support it, the newly elected lawmakers representing Rhode Island's electorate support it, and all of the state's neighbors support it. It's a no brainer. But then we have groups like National Organization for Marriage Rhode Island. They claim that Little Rhody needs to stand with the heartland, not its New England neighbors.
From the New York Times:
The driving force against gay marriage is the National Organization for Marriage Rhode Island, an offshoot of the national group that has worked against it in several other states. It objects, among other things, to the suggestion that Rhode Island has some kind of obligation to go along with the rest of New England.

"We belong to the United States of America, not to the United States of New England," said Christopher Plante, the executive director. "Rhode Island stands with the vast majority of Americans in understanding that marriage is the union of one man and one woman." Thirty states have constitutional amendments banning same-sex marriage.
I'm sure many Rhode Islanders would love to see Plante and company pack up and move to Mississippi circa 2004. Sadly that's not possible, so Plante should just go ahead and accept reality.