The National Organization for Marriage (NOM) seems set to launch an international organization, and Jeremy Hooper at NOM Exposed has dug up clues that point to France as the first step in a sweeping global plan.
Writes Hooper: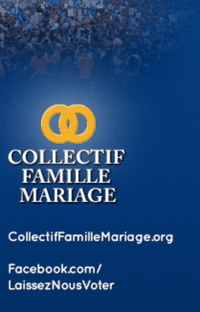 We know NOM has moved forward with all of the other plans in those strategy documents (including the "drive a wedge" one); this is just a continuation of the international plan, with France being the first chess move in a larger, planetary onslaught on behalf of inequality. Because it's NOM's Earth, apparently—we just get discriminated within it.
Meanwhile, French 'traditional marriage' opponents are amping up the violent rhetoric, promising blood will be spilled over equality:
French comic Frigide Barjot, leader of the Manif pour tous (Demo for all), France's mainstream anti-gay marriage movement, reacted angrily on Friday after the French government announced it would bring forward to next Wednesday the National Assembly's final hearing on a bill which would legalize gay marriage in France.
The government's move came after the French Senate approved the gay marriage bill earlier in the day.
The decision to bring the Assembly's second hearing  forward to Wednesday has however rendered pointless the mass protest against gay marriage, which had been scheduled for May 26th.
"This is a disgrace. The French people don't want this law, and what do they do? They speed up its passage. Hollande wants blood, and he will get it," Barjot was quoted as saying by France's TF1, adding "We live in a dictatorship. The President of the Republic has guillotined us."
Centre-right UMP deputy Christian Jacob joined the fray, saying in a statement that by accelerating the bill's now almost certain passage into law, "the President of the Republic is risking a violent confrontation with the French people."
Meanwhile, who is silent on the violence that has already happened because of their efforts to "protect marriage"?