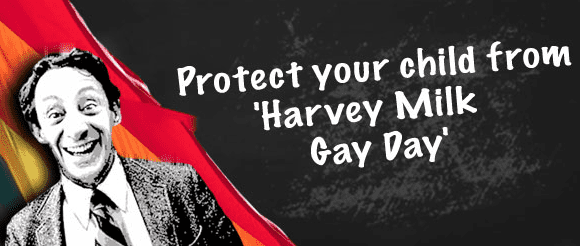 This Wednesday is Harvey Milk Day in California; a day which is intended to celebrate this important gay rights activist. One conservative anti-gay organization, SaveCalifornia.com, is using radio ads airing in Sacramento and Los Angeles to urge parents to keep their kids home from school that day. Randy Thomasson, the president of the group explains his reasoning behind the illogical boycott:
According to the Sacramento Bee, the group's president, Randy Thomasson, says: "This is harmful to children…This is not academic, it's brainwashing." Thomasson also explained his feelings on the holiday to CBS13: "Children belong to the parents, not to the state, and to force a sexual agenda and a political agenda upon children, that's highly inappropriate."
What is highly inappropriate is the all of the information as well as a video posted on on the group's website which is full of hateful lies and anti-gay propaganda. The alarmist image above is from the group's website.
Watch a CBS13 news segment about the anti-gay campaign, AFTER THE JUMP.