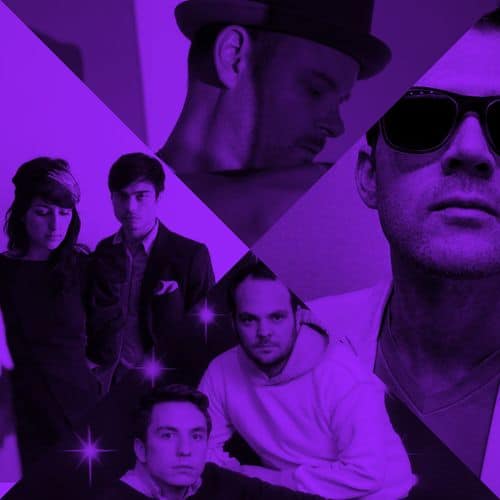 BY OCCUPY THE DISCO / JOSH APPELBAUM
The OXD Mirror is a weekly music column brought to you by the boys of OCCUPY THE DISCO (OXD), a New York City based movement created by three music lovers, Ru Bhatt, Josh Appelbaum, and Tadeu Magalhães, who want to share their love for disco, house and dance music with the world.
Andrew Clarke: 'Under The Sun (Cyclist Gospel Remix)'
Toronto's Mark Penner, also known as Cyclist, created an incredible re-edit of UK producer Andrew Clarke's new single "Under The Sun".  Cyclist keeps the original song's heavy disco-inspired synths and keyboards and adds vocal samples from Aretha Franklin's 'Never Grow Old.' Along with a heavier piano and lighter drums, this edit gives it an all-around more soulful feel, which makes it clear why it's billed as a "gospel" remix.
Lilly Wood & the Prick: 'Middle Of The Night (Yuksek Remix)'
French pop duo Lilly Wood & The Prick have been making silly yet delightful music since their inception in 2008, sounding very much in line with their playful band name.  'Middle Of The Night' was the first single off of their 2012 sophomore album The Fight.  Though a little late following the release of this song, fellow Frenchman Yuksek readies this track for the dancefloor with this recent remix.  Hand claps, bouncing bass and nu-disco synths complement lead singer Nili Hadida's vocals nicely for a track that we expect to start hearing out quite often.
Patrick Baker: 'Blissed Out'
Patrick Baker (featured before on The OXD Mirror here and here) is a Nashville-based musician who has veered quite a ways off from the city's country music roots with his disco and deep house sounds. Baker has showed off an impressive range of talent so far, with vocals inspired by the 80's and 90's and self-production that spans across various genres of electronic and even pop music.  His skills have garnered the attention of production outfit Satin Jackets (who he also recorded with) and producers The Magician and Goldroom. 'Blissed Out' is a dreamy tune that straddles his 80's/90's taste (I hear a lot of cues from INXS in this track) and adds in a more modern production element for a beautiful effect that is distinctly his own.
CONTINUED, AFTER THE JUMP…
Softwar: 'One Day (Detroit Swindle Remix)'
There's nothing I love more to listen to while relaxing in the summer sun than some gorgeous deep house songs – and Softwar has a particular knack for creating tunes that fit perfectly for this activity.  A few weeks ago I recommended the Sydney-based group's 'Believe' off of their Believe/One Day EP. Detroit Swindle's remix of the second original track on the EP, 'One Day,' is truly amazing and I couldn't help from featuring these producers again. Although Amsterdam-based, Detroit Swindle's name accurately describes their regional musical influence which is apparent by the remix's deeper house sound and robust bass line.
Moon Boots: 'Love Strong'
French Express' golden child, Moon Boots, is back with another masterfully produced nu-disco track. With remixes for the likes of Little Boots, Jonas Rathsman and Bondax under his belt in the past year, 'Love Strong' is his first original track in some time.  The pulsing piano and strong vocals are reminiscent of classic 90's house music, which accompany nicely the love-inspired chorus line "Do me right, don't do me wrong. I'll hold on if the love is strong."  
Sharper Image: 'The Shade (Pools Remix)'
Sharper Image, based in Los Angeles, is a dance music outfit consisting of native Angeleno Jason Gordon and Nashville transplant Spencer Moore.  The openly gay duo DJ their own parties around the L.A. area and have been working feverishly on new music collaborations and remixes. According to Jason, they 'seek to cultivate a high-end dancefloor experience as futuristic and attractive as any item in Skymall.' Their latest, 'The Shade (Pools Remix),' provides a healthy dose of Los Angeles-style deep house, perfect for lazy days by the pool. 
Best Mate: 'Dont Fight The Music (Sean Be Edit)'
Brooklyn-based DJ and producer Sean Be is one of the people that truly played a part in inspiring us to form Occupy The Disco.  Sean is one half of Spank!, an art zine and semi-regular party occurring all over different New York City venues.  Along with his Spank! partner-in-crime Will Automagic, Sean is one of the few that kept house and disco music alive in the gay scene for the past years as Top 40's dominated NYC's dance spots. Not only that, his set for our day party Paradisco was one for the record books.  Under his moniker Best Mate, Sean edits a 1989 release by Maureen entitled 'Don't Fight The Music', with lots of throwback synths, hooks and strong bass lines, which make for a very danceable track.
We are now on Spotify!  Subscribe to our 'As Featured on Towleroad' Playlist to listen to tracks posted from past weeks.
For more information on OXD, check out our website and accompanying blog at www.occupythedisco.com, like us on Facebook, or follow us on Twitter: @OccupyTheDisco.