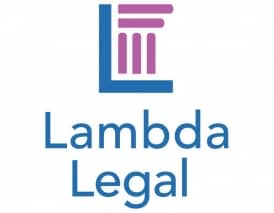 Lambda Legal, the country's oldest and arguably most important legal services organization dedicated to protecting the rights of the LGBT community, is celebrating its 40th anniversary this year. It began as a small operation, evoking a David-versus-Goliath motif. It's first client was itself. Its second major victory changed the way we think about free speech. Its most famous case brought gay people out from the shadows. And through countless legal, educational, and political efforts over forty years, Lambda has done more for the gay community than any one person could adequately appreciate or explain. 
Because of Lambda's incomparable accomplishments, New York City Mayor Mike Bloomberg has declared today, May 6, 2013, "Lambda Legal Day." I'd like to make sure we all understand why.
Without Lambda Legal, we wouldn't be where we are today: celebrating the freedom to marry in New England, permitted to express and embrace our sexuality in schools and elsewhere, arguing marriage and the Defense of Marriage Act (DOMA) at the Supreme Court, and expecting victories in state legislatures across the country, to name just a few our remarkable successes. We used to be hidden in underground bars with darkened windows, subject to random and pernicious police raids, and forced deep into the closet and far toward the margins of legitimate society. Today, for the most part, we aren't.
To some of us, names like Bill Thom, James Dale, John Lawrence, Ninia Baehr, and Karen Golinski evoke feelings of heroism and shared sacrifice. They all were plaintiffs in important gay rights cases in the last forty years and they were all represented by Lambda Legal.
AFTER THE JUMP, I offer a taste of some of Lambda's most notable accomplishments. If you're interested in learning more, I encourage you to check out the organization's website, contact their staff, and see how you can help.
Lambda had to first fight for the right to exist after New York State unjustly denied its petition to form as a non-profit organization. As an organization dedicated to protecting the rights of gay persons, Lambda was told that it was "unnecessary" — even in 1973 — and its activities were neither "benevolent nor charitable" in a world where some lawyers might decline to represent gays "as a matter of taste," but not due to some systemic disenfranchisement. New York State's highest court overturned that ruling, but only after Lambda founder Bill Thom stood his ground.
HIV: In 1983, Lambda filed the country's first HIV/AIDS-discrimination challenge when several residents of Manhattan's West 12th Street got together to try to evict a physician who was treating HIV-positive patients. Lambda won, keeping the doctor and his essential medical services in place despite the baseless and visceral fears of others. Several years later, the organization sued an insurance company for refusing to pay for life-saving treatment for an HIV-positive man. Lambda was really the first group to do something about HIV-related discrimination and although the stigma of HIV still lingers to this day, Lambda began a concerted effort that has made it possible for HIV-positive persons to get necessary medical services, to keep their jobs, and realize the rights guaranteed them under the Constitution.
Workplace: Lambda sued New York City in the early 1990s because it failed to provide equal benefits to the domestic partners of city employees and their dependent children. They reached a groundbreaking settlement in which Lambda and gay employees won recognition and benefits, but the impact of the decision was broader: cities and states have looked to this settlement as a guide, thus ensuring that one of Lambda's local victories became the benchmark for recognizing the partners of gay employees.
Family: Lambda has led the fight for second-parent adoption, which allows the same-sex partners of gay moms and dads to become the official parent of their partners' kids. In 1994, Lambda's case, In the Matter of Jacob, got the ball rolling when it ensured that New York would be on the joint adoption list. Sixteen states plus the District of Columbia now permit second-parent adoption and Lambda's family attorneys are working to expand this list. Lambda has also secured parental rights for countless gay persons who had been performing parental duties for years.
Schools: Lambda is responsible for several notable protections for LGBT students. In 1996, Lambda won Nabozny v. Podlesney, a famous case that held, for the first time, that a school district could be held liable for willfully refusing to stop antigay bullying. Jaime Nabozny was not onlythe victim of his bullies; he was victimized by his teachers and administrators who said he should expect to be assaulted and subjected to mock rapes because he is gay. More recently, Lambda protected the right of Maverick Couch to wear a t-shirt stating, "Jesus Was Not a Homophobe," in school. Another of Lambda's cases made sure that Gay-Straight Alliances would be allowed to meet on public school campuses.
Marriage: The two marriage cases that were just argued at the Supreme Court — Windsor v. United States and Perry v. Brown – were not Lambda cases. Lambda brought a DOMA case in San Francisco (Golinski v. United States), but the accidents of timing brought Windsor to SCOTUS first. However, without Lambda, Windsor and Perry would have never been argued.
In 1996, Lambda was counsel in the first marriage case, Baehr v. Miike, where a Hawai'i trial court ruled that the State had no valid reason to deny marriage licenses to gay couples. That ruling may have ultimately been overturned, but Lambda started the march to marriage that occupies so much of our movement today.
Most importantly, Lambda won the landmark case of Lawrence v. Texas, which declared that antigay sodomy laws were unconstitutional. This case took away the cloud hovering over all gay persons, who were considered presumptive criminals in a regime that criminalized the very act that defined the sexuality of gay persons. And this is directly related to marriage. Lawrence changed the relationship between gay persons and the State from one of antagonism to one of Constitutionally recognized protection, which undermines any rationale for prohibiting gay couples from marrying. It is no wonder that Lawrence is cited more than any other case in the Supreme Court briefs in Windsor and Perry.
Even this short, incomplete summary of Lambda's work suggests one simple truth: Lambda's history is our history. The organization has been fighting the fight for full equality of gay persons since long before gay causes attracted the kind of celebrity A-listers it does today. It was fighting in the trenches when trench warfare was all we had. And this year, as it celebrates 40 years of fighting on our behalf, we say thanks. 
Lambda also operates a Help Desk for any question you might have about your rights as a gay American.
***
Ari Ezra Waldman is the Associate Director of the Institute for Information Law and Policy and a professor at New York Law School and is concurrently getting his PhD at Columbia University in New York City. He is a 2002 graduate of Harvard College and a 2005 graduate of Harvard Law School. Ari writes weekly posts on law and various LGBT issues.