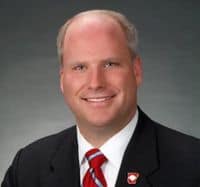 The wording of a proposed ballot measure that would repeal the 2004 constitutional amendment banning gay marriage in Arkansas was rejected by the state's Attorney General Dustin McDaniel on Friday. McDaniel (pictured right) said the proposal by Arkansans for Equality contained "misleading tendencies" and failed to meet the state Supreme Court's requirement for "impartiality." The Times Record reports:
Said McDaniel:
"Specifically, rather than simply describing Amendment 83 to the Arkansas Constitution (the amendment proposed to be repealed), your proposed ballot title asserts an abridgment of undefined 'rights' and seems to presume Amendment 83's illegality in terms of federal law of other states," the opinion said.
"It is conclusory and partisan to assert that Amendment 83 'limits' Arkansans' 'rights' and 'prevents federal laws…being applied in a consistent manner,"' the opinion said. "To use such terms and phrases is to promote by implication, not to summarize, a proposal. As a consequence, the proposed ballot title has misleading tendencies and fails to meet the Arkansas Supreme Court's requirement of impartiality."
Arkansas for Equality submitted its proposal the day after DOMA was struck down by the Supreme Court. The group had hoped to get the proposal on the 2014 general election ballot. A similar proposal by Arkansas Initiative for Marriage Equality would appear on the 2016 ballot instead.