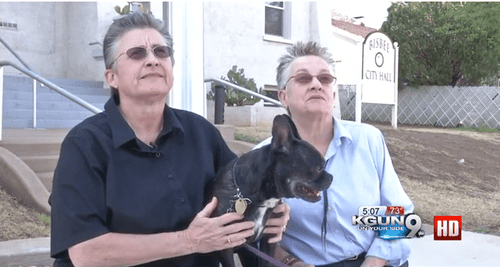 Kathy Sowden and Deborah Grier have been together for 21 years, and now they share Arizona's very first civil union, as KGUN9 reports:
Sometime small steps in small towns lead to big changes. In Bisbee, Kathy Sowden and Deborah Grier went to Bisbee City Hall to file the papers to recognize their 21 year relationship as a formal civil union.

The documents spell out how they want to handle some of the privileges that come with marriage like the ability to make medical decisions for each other.

Bisbee's City attorney says because the city wrote the documents like a contract between two people, Bisbee's civil union carries legal weight outside Bisbee and throughout the US.
As we reported in early April, the Bisbee City Council voted 5-2 to approve a civil unions bill for same-sex couples, making it the first jurisdiction in the city to do so.  The following month, the council approved an amended version of the provision in the face of a threatened lawsuit by Arizona Attorney General Tom Horne alleging the civil unions legislation conflicted with state law.  The revised measure explicitly stated that "the city of Bisbee makes no warranty or guarantee regarding the legality or enforceability of any agreements or nominations of the parties."
Last month, the Tuscon City Council unanimously approved its own civil unions bill.  Previously, the city had offered a domestic partnership registry that offered limited rights, such as hospital visitation privileges.  The new civil unions law provides couples with inheritence rights and power of attorney and allows them to establish living wills for each other.