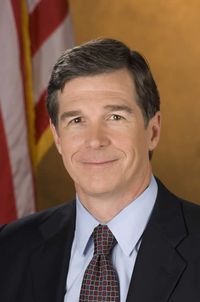 Some good news out of North Carolina. On Friday, the state's Attorney General Roy Cooper (pictured left) announced that his office would not block the American Civil Liberties Union of North Carolina's move to challenge the state's constitutional ban on gay marriage. QNotes reports:
The ACLU wants to amend their current lawsuit challenging anti-gay second-parent adoption bans to include a challenge to the state's Amendment One. The amendment was passed by voters, 61-39, in May 2012.
Noelle Talley, a spokesman for Cooper, said the Democratic attorney general won't oppose the motion. Both cases, she said, were heading to court and combining them is more efficient.
Tami Fitzgerald, leader of the anti-LGBT NC Values Coalition, has called Cooper's actions in question. She said voters overwhelmingly supported the amendment.
"The constitutionality of the amendment is outside of the scope of a lawsuit regarding adoption by gay couples," said Fitzgerald, according to The Associated Press.
Fitzgerald's group was the chief proponent of the anti-gay ballot measure. 
Cooper's announcement, coupled with Pennsylvania AG Kathleen Kane's decision to not defend her state's ban on gay marriage, means that we may very well have two more states in the "equality" column before long.