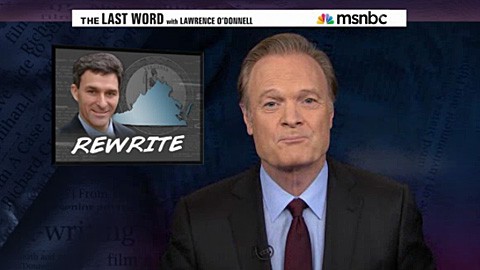 Lawrence O'Donnell tore up Virginia attorney general and gubernatorial candidate Ken Cuccinelli in last night's 'Rewrite' on The Last Word, demanding that the anti-sodomy, anti-oral sex crusader be asked about his own sex life in upcoming debates.
"Virginia is for lovers is bullsh*t," spits O'Donnell.
Watch the jaw-dropping segment, AFTER THE JUMP…
Mediaite writes:
O'Donnell was inspired to read the law in question, and proceeded to share with his viewers exactly how horny elected officials get when they really put their minds to it. He read some very vivid and graphic legal descriptions of what sodomy is, especially the part that calls it a "crime against nature."
But it's not just strictly sodomy that's out of bonds, it's "most gay and straight sex" and sex with "any brute animal." Cunnilingus is right out. In fact, the only type of sex that technically remains legal is heterosexual vaginal intercourse.
All of this led O'Donnell to a very important conclusion: when Cuccinelli participates in gubernatorial debates, it is completely fair and reasonable to ask him if he has ever violated that law with his wife.
Watch the jaw-dropping segment, AFTER THE JUMP…
And Buzzfeed has more on Cuccinelli's recent anti-sodomy activities:
Cuccinelli has asked the Supreme Court to take his appeal of a case against William Scott MacDonald that he lost at the appeals court in order to allow the state to use its sodomy law to prosecute MacDonald for soliciting a minor — despite the Supreme Court's 2003 ruling in Lawrence v. Texas that sodomy laws are unconstitutional.
Cuccinelli's defense has faced criticism due to his continued support — expressed as recently as 2009 — for the criminalization of homosexual sodomy and his opposition to updating the law to eliminate the unconstitutional law while continuing to criminalize the behavior at issue in the MacDonald case.
Rather than addressing those issues, Cuccinelli on Wednesday launched a website attacking his Democratic gubernatorial opponent, Terry McAuliffe, for "Playing Politics Instead of Protecting Our Children."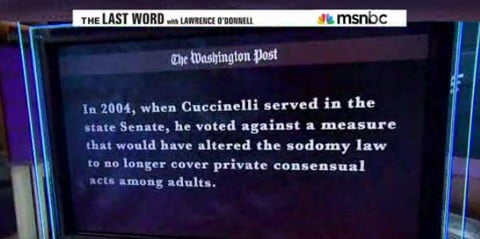 Visit NBCNews.com for breaking news, world news, and news about the economy