A new Quinnipiac poll is out and reveals that 50 percent of Virginians support same-sex marriage and 43 percent oppose it.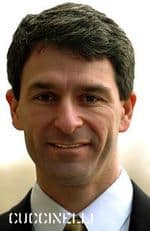 As far as the governor's race goes, Quinnipiac reports:
A yawning gender gap in the Virginia governor's race leaves Democrat Terry McAuliffe with a slight 43 – 39 percent lead over Republican State Attorney General Ken Cuccinelli, according to a Quinnipiac University poll released today.
"Democrat Terry McAuliffe is ahead by a nose in this tight race, but half the electorate doesn't know enough about him to decide whether they view him favorably or unfavorably. Attorney General Ken Cuccinelli is somewhat better known with only a third of voters having no opinion about him," said Peter Brown, assistant director of the Quinnipiac University Polling Institute.
Some breakdown of the numbers on marriage, via the AP:
Women who responded to the survey backed gay marriage 55 percent to 39 percent, but men opposed it 49 percent to 43 percent. Sixty-eight percent of self-identified Democrats supported gay marriage and 26 percent opposed it. Republican respondents opposed it by the same ratio.
Sixty percent of those with college degrees supported same-sex marriage and 34 percent of college grads opposed it. Among those with no college degree, 49 percent opposed it and 45 percent supported it. Catholics favored gay marriage 56 percent to 40 percent, while Protestants opposed it 57 percent to 36 percent. Among those who identified themselves as born-again evangelicals, 74 percent opposed it.
A majority of whites surveyed, 51 percent, supported gay marriage while black respondents opposed it 48 percent to 42 percent. Among voters age 18 to 29, 74 percent backed same-sex marriage, and 52 percent of those age 30 to 44 favor it. But among those 45 and older, majorities opposed it.
In the 2006 election, an amendment to Virginia's Constitution banning gay marriage passed 57 percent to 43 percent.