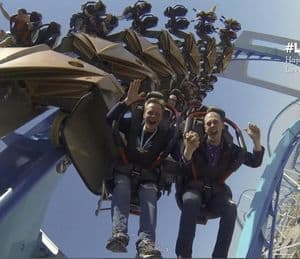 With its 16 different roller coasters, Cedar Point of Sandusky, Ohio, is a Mecca for thrill ride enthusiasts throughout North America and the world. Unfortunately, the park is receiving a bit of bad press as of late, after canceling a contest in which it would allow 13 couples to get married on park grounds to mark the beginning of their HalloWeekends festival so they could avoid including gay couples in it.
Ohio is one of the many states in the country that does not currently allow marriage equality. That didn't deter Scott Kenimond and Eric Morrison of Akron when they saw the contest online. According to the Sandusky Register, the two are roller coaster enthusiasts, which was one of the things they bonded over when they first met. "It was one of the things that made me message him. First I thought, 'He looks cute,'" Morrison said. "My username was WickedTwister. He knew right away I was a fan." The two have already been engaged for months. Thus, when they found Cedar Point's contest online, it seemed a bit like providence. "[Scott] was elated. He was beside himself so happy," said Morrison. Then they read the fine print: "Due to marriage laws in Ohio, weddings are limited to male-female couples only."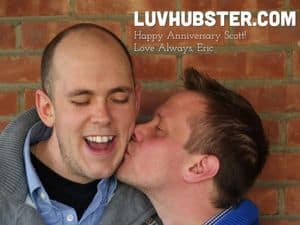 This obviously didn't sit well with Kenimond and Morrison, who then took to Twitter and Reddit to gather support. For one thing, the contest ad offered it as a chance for already-married couples to renew their vows. "It doesn't matter if it's legal or not," Morrison said. "You should be able to have a commitment ceremony. For God's sakes, you're getting married by a zombie."
Nevertheless, officials at Cedar Point decided to cancel the contest shortly thereafter, issuing a statement that read: 
"When the promotion logistics started to take on political undertones, as indicated by several guests who gave us feedback, it was decided that now is not the best time for this event… Cedar Point does not take any official stance on political issues." 
The couple was already considering a commitment ceremony in Cedar Point anyway, to which the park announced in its statement that "we encourage guests to contact us if they're interested in planning such an event." Nevertheless, the couple was still looking forward to have the chance to have expenses and organization taken care of by the park. That said, Morrison, who works in marketing, understands the park's decision. 
"For them, this was not a political commotion. It was simply to drum up interest for HalloWeekends and they had a stance where they chose not to choose a stance…I'm disappointed they would choose to go that way rather than stand behind their LGBT community. Ultimately, they're playing it safe. But it's a cowardly choice."